IBC Bible Reading Plan
The Bible, in and of itself, is a miracle. Think about it — over a time span of 1500 years, God supernaturally moved upon 40 faithful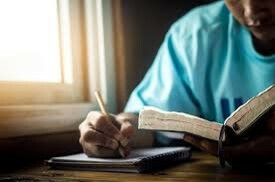 men, living in 3 continents, resulting in them writing down the exact words of God in three different languages. In spite of all of this, God's Word is consistent throughout in its theme and teachings. God then led His people to recognize these divine writings and to distinguish them from everything else that has ever been written. Then God's people brought these 66 books together. The preservation and survival of the Bible is as miraculous as its writing. Then God gave men technological knowledge to copy and transmit the Bible so that all people could have it written in over 500 languages.
All of this took place because God has something to say to you.
Join hundreds of others at IBC in 2021 as we read through the Bible over the course of a single year. We're challenging our entire church to participate in our sermon based reading plan, which will walk us through the texts and themes that Bro. Shawn will be preaching on each week. We're confident that intentionally walking through God's Word will challenge you like never before.
How Does It Work?
This plan expects believers to read 1 or 2 chapters a day for 5 days each week, with an allowance for weekends off. The 2 off-days a week are built in so you may catch up on days where you're unable to read in order to digest more of the Word. The Bible reading plan encourages believers to not only read their selected passages, but to also keep a H.E.A.R. Journal. (Click here to see a sample H.E.A.R. Journal.)
Bible Reading Plan Series: